Welcome to the World of Oil Lamps
OLD FLAMES LIMITED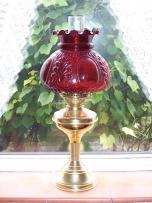 ABOUT US
OLD FLAMES LIMITED was formed in the late 1970's by Keith Morgan, a Professor of Agricultural Engineering at Reading University and an oil lamp enthusiast with a passion for Aladdin Lamps. In 1982 he was joined by Keith Wonfor, for over 20 years Sales Manager with The Tilley Lamp Company and also a lamp enthusiast.
Keith Morgan retired in 2000 and in 2001 Keith Wonfor expanded the business by taking over Lamparts Limited, in Ramsbury, Wiltshire.
In 2007 Keith moved the business closer to his home in Surrey.

Old Flames Limited is able to offer a vast range of parts for most models of oil lamps, pressure lamps and Aladdin lamps. In addition we offer a range of electrical components including conversion parts to convert traditional oil lamps. We can supply cotton-covered cable suitable for rewiring antique lamps, where the tube diameter is often smaller than standard modern fittings, plus a range of plastic-covered cable in various colours and sizes. 
oil lamp shades
electric lamp shades
oil lamp founts
oil lamp chimneys
oil lamp components
electrical components
electric cable-plastic
electric cable-'silk'/cotton
gas light fittings
oil lamp books
If you like the look of an oil lamp but want the convenience of light at the flick of a switch then we can supply complete ready-made electric lamps or provide convertors for a traditional oil lamp. Please note we will not hesitate to advise you if we feel that you may be ruining a beautiful old lamp or that it is not suitable for conversion.
Do you have a lamp which has had an unfortunate accident with a shade or chimney?
We can offer you advice regarding shape and style for your lamp and of course supply you with the part!
Are you looking for a lamp from a certain era to complement your room or perhaps feature in a play, television production or photo-shoot? We can offer lamps (old and new) from a selection to buy or hire. We can make lamps to your specific requirements.
                                                               CAN WE HELP YOU?
                         ALL ENQUIRIES WELCOME
                                     Phone: 01252 328844    Fax: 01252 345495
Please let us know if you would like to visit us. We are situated 5 minutes from junction 4 of the M3





Contact Address:
10, Waverley Drive,
Ash Vale,
Surrey.
GU12 5JW
                                          TO HELP US TO HELP YOU
PLEASE INCLUDE YOUR TELEPHONE NUMBER WITH ANY ENQUIRY